How to apply
Details
Tuition Fee
※Not tax included.
Master DT course
Night class
Chairside coloring
course
Implant
course
Implant EX
course
Epithese
course
Tuition Fee
¥ 685,000
¥ 400,000
Erollment Fee
¥ 50,000
¥ 50,000
Industrial waste disposal Fee
¥ 6,000
-
Total
¥ 741,000
¥ 450,000
Admission Procedure
Documents submission
Submit the documents in the list below.
Application for admission. *Please attach a photo.
Submit a copy if there is a license *License includes doctor's license and dental technician's license etc.
*Please download the document from the bottom, or request it in the application form.
*If there are incompleteness in the completed documents, we will ship again.
Issuance of a certificate
After screening documents, a certificate is issued from the secretariat.
Payment of tuition fee
Depending on the content of the certificate of deposit, you will be credited either by "application fee only" or "all at once".
Issuance of admission permit
After confirming payment, issue admission permit.
Lesson start
Application Form
Please download and mail the Application for admission, or apply from the Mail Form
"Dental Academy Tokyo" is a private school, so you can not obtain a study abroad visa. Therefore, you go to our school while going to a Japanese language school where you can obtain a study visa, which is in Japan.
Also, there is no interpreter at our school. There is no lesson in English.
If you are considering studying abroad in Japan, please read the link below. Information on studying in Japan is gathered.
http://www.jasso.go.jp/en/study_j/sgtj.html
There is also an institution for study abroad in your country, so please consult there first.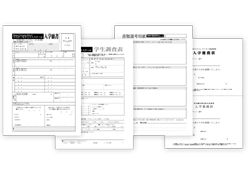 Application for admission
*Please be sure to send us your application form.
*Please print on A4 size paper.
Delivery address
DENTAL ACADEMY TOKYO Administration Office
2-8-1 Juzando Bld.5F, Hongo, Bunkyo-ku, Tokyo, 113-0033, Japan
You can apply from the form below.